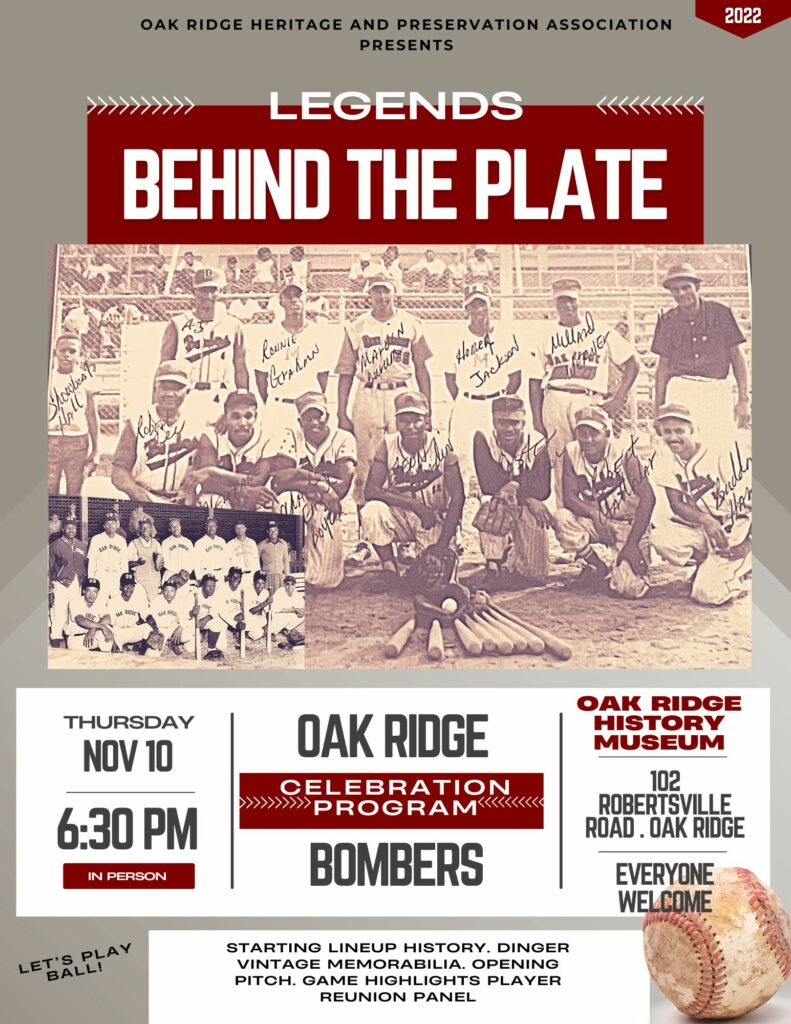 Oak Ridge Heritage and Preservation Association (ORHPA) celebrates Legends Behind the Plate. On Thursday, November 10, 2022, beginning at 6:30 PM the ORHPA will host a free program in recognition and celebration of the African American Oak Ridge Bombers Baseball Team at the Oak Ridge History Museum, 102 Robertsville Rd. Oak Ridge, Tennessee.
Addressing the most critical elements of a baseball game, the program will include an opening pitch, starting lineup history, all-star acknowledgments, and a dinger vintage baseball memorabilia unveiling. The ultimate game highlight of the program will be the reunion of local Oak Ridge Bombers who will share their experiences playing baseball, America's pastime.
"We Whooped Almost Every Team We Played" says James Capshaw former Manager of the Oak Ridge Bombers
This program event is open to everyone and is great for families, baseball, and history enthusiast to attend. The Oak Ridge Bombers were a baseball team was born out of segregated practices during the World War II Manhattan Project era in the 1940s in Oak Ridge, Tennessee.  The team eventually disbanded in the 1960s. Players of the Oak Ridge Bombers Team worked at U.S. Government Plants furthering its mission and helped to integrate Oak Ridge High School. Former Oak Ridge Bomber, Eugene Williams, went on to play for the renowned professional Negro Leagues as a winning pitcher.
Let's Play Ball- this ORHPA Legends Behind the Plate Program is not to be missed.